TO
PUDDIN'S MEMORY PAGES
The Early Years

This page is dedicated to the memory of my beloved cat Puddin who left me for the Rainbow Bridge on June 10, 2000 after sharing 19 wonderful loved filled years of her life with me. Gone from my arms but never forgotten she will always live on in my heart until the day I can hold her again.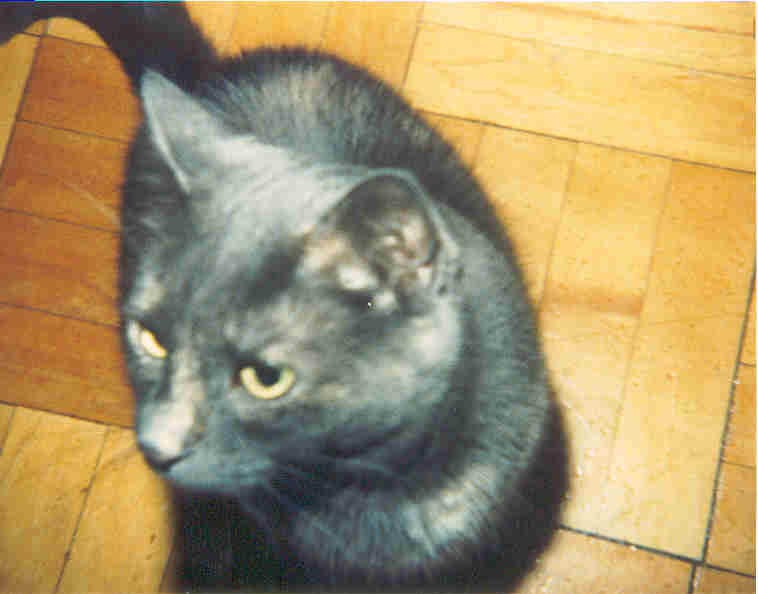 This is one of my earliest photographs of Puddy. Unfortunately, back then her leaving me was very far from my mind and I did not take many photographs of her. I regret now I didn't.
My grief when she left me knew no bounds, even now, some nine months later as I work on this page the tears flow and my arms ache to hold her. She was my baby, my comfort during many heartaches, my companion through thick and thin and a never ending source of love. Losing her was like losing a part of myself. While life has moved on, and I've adopted a new fur child, I know I'll never love another as I loved my precious Puddy.
She watches over me now, from Rainbow Bridge.
My life began with Puddin one cold and gusty fall day. A customer on my daughter's paper route had a mama cat and four babies. We already had one cat, Mizet, but my daughter was bugging me for another. Knowing that I liked them, she told me there's the cutest little orange male. Imagine my surprise as she walked through the door and this fuzzy little grey head popped out of her coat. Even though she was neither orange nor male my love affair with Puddin began that very day. Mizet had always been very much Stacy's cat, sleeping with and spending most of her time in Stacy's company. Puddin claimed me. Many a night I snuggled with her fuzzy little body and fed her pieces of my chocolate chip cookies which she loved almost as much as I did.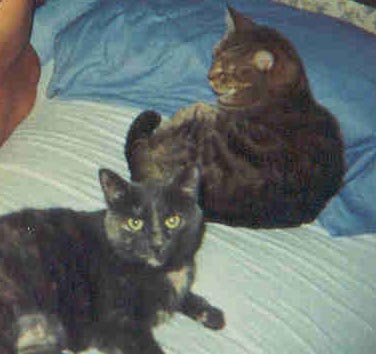 Time flew by, it seemed like almost in an instant that fuzzy little kitten became a full grown kitty. Her personality was always mellow, she met and greeted any and all comers with a poise, dignity and graciousness that won hearts instantly. We shared many a good time those first few years, growing more closely attached each day
Puddin and Mizet were great friends sharing many happy hours at rest and play. Sadly, we lost Mizet as well in 1998 also at 19 years of age. She and Puddin are reunited once more
.
A treasured picture of Mizet.
In no time at all the years were gone, my daughter grew and she and Mizet moved out on their own and Puddy and I were left alone to keep each other company. In January of 1990 I relocated to another city about an hours drive from my home town. Puddy of course came with me. We had some very humble beginnings in our new home town but throughout the hardships and the following years Puddy was always there, never complaining, aging with dignity and grace and making more new friends.
Links To My Other Pages
I'd love to hear from you if you like these pages. To email me please click on button below.

Background set courtesy of Northern Dreams
Music playing is "Where I Belong" by Bruce Deboer© 2000
You are visitor #